About Us
Hundreds of Sprays In Every Bottle!
The PUFF PUFF SPRAYTM brand is known for removing everyday odors from the air and furnishings in your home, office and auto. It is a safe and fast way to remove smoke and odors.
PUFF PUFF SPRAYTM is non-hazardous, non-toxic and Eco-friendly.
Our expertise in research for natural plant derived ingredients and quality product development allows us to produce the most effective, natural odor remover.
We have been developing natural scientific based products for over 20 years to remove smoke and odors. PUFF PUFF SPRAYTM is made with plant derived ingredients which include odor eliminating compounds that remove all types of smoke and odors.
It is an everyday product for removing even the toughest pet and sport smells. Use in homes, hotel rooms, offices, automobiles, apartments, dorms, boats, bars, and clubs. Puff Puff Spray deodorizes, while leaving a clean fresh scent.
Quickly get your home back to smelling fresh and clean with PUFF PUFF SPRAYTM !
Our products are safe to use around children and pets .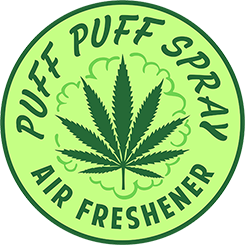 For distributor opportunities please call