FAQs
HUNDREDS OF SPRAYS IN EVERY BOTTLE
We Would Like To Help You..
WHAT are Puff Puff Spray Ingredients?
Puff Puff Spray is made up of plant derived ingredients, natural surfactants, proprietary blend of odor eliminating compounds. This product is derived from natural ingredients, non-toxic, non-chemical and eco-friendly.
WHERE CAN I BUY PUFF PUFF SPRAY AND REFILLS?
Our products are sold across the United States in local chains, head shops and gas stations. It's also sold in many dispensaries and lounges where cannabis is legal.
HOW MUCH DOES Puff Puff Spray COST?
A 4oz to 8 oz bottle ranges from $4.99 – $9.95 (depending on retailer and location. Our website prices always stay the same and you can purchase right here, right now.
IS PUFF PUFF SPRAY AVAILABLE INTERNATIONALLY?
YES. There are no cannabis, htc, hemp, seeds, oil etc in our products. This is all FDA approved ingredients. We can ship anywhere, anytime.
IS PUFF PUFF SPRAY RECYCLABLE?
We love our planet. All bottles are recyclable. We are working with a hemp bottle company to make all our bottles from Hemp which will be easier to recycle and break down.
HOW DO I CONNECT with other related cannabis use PRODUCTS ?
Visit our other site buddenvironmental.com. We have a vast array of products to help with the cannabis industry. Mold remover for plants, Green organic cleaner for grow rooms, Smoke & Water fabric cleaner for furniture, Laundry detergent to remove smoke from clothes.
HOW LONG DOES One Bottle of PUFF PUFF SPRAY LAST?
There are hundreds of sprays in every bottle. This product works quickly.
HOW DO I RETURN OR REPLACE PUFF PUFF SPRAY?
bought product, give up smoking the next day? No problem, we will happily accept items purchased from our website. Customer satisfaction is our top priority and will happily accept returns per the following return policy.
Is puff puff spray sold internationally?
Yes we do, currently selling in Australia!
Our products are safe to use around children and pets.

PUFF PUFF SPRAY CONTACT INFORMATION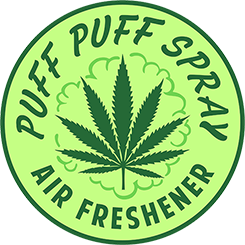 Contact number: 844-424-PUFF (7833)
Number available: 9:00am-6:00pm EST Monday to Friday
Before using Puff Puff Spray read all instructions. To reduce risk of injury, keep out of reach of children and pets. Product is not a toy. Intended for adult use only. Do not use around open flame. Do not use in small, confined pet areas without adequate ventilation. Do not obstruct or block airflow. Do not spray on finished wood surfaces. Do not use sideways or upside down. If eye contact occurs, rinse with plenty of water for 20 minutes. If eye irritation persists, consult a physician. If swallowed, call physician immediately.
Our products are safe to use around children and pets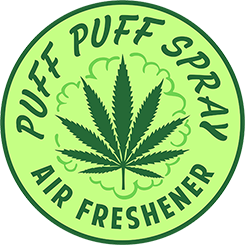 For distributor opportunities please call