Our products are safe to use around children and pets (not for use around birds).

PUFF PUFF SPRAY CONTACT INFORMATION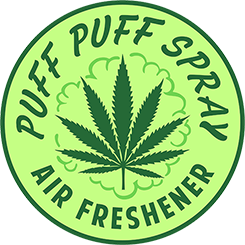 Contact number: 844-424-PUFF (7833)
Number available: 9:00am-6:00pm EST Monday to Friday
Before using Puff Puff Spray read all instructions. To reduce risk of injury, keep out of reach of children and pets. Product is not a toy. Intended for adult use only. Do not use around open flame. Do not use in small, confined pet areas without adequate ventilation. Do not obstruct or block airflow. Do not spray on finished wood surfaces. Do not use sideways or upside down. If eye contact occurs, rinse with plenty of water for 20 minutes. If eye irritation persists, consult a physician. If swallowed, call physician immediately.
Our products are safe to use around children and pets